It feels surreal, but we are finally at the crescendo of big baby bumpness : FULL TERM! Having hit 37 weeks, I still feel pretty much the same as 36 weeks and prior....I've been really lucky to feel so good this whole pregnancy. One thing is for sure, I am definitely getting bigger - although I don't feel like baby has "dropped" into my pelvis yet.
People on the interwebs (Instagram and Facebook, namely) have said that he has dropped, but really I just feel as ginormo as ever!
I have been able to keep up with working out, doing some Jillian and taking long walks (4 miles, a new record this week!) and doing some pilates. I did a quick scan of my workout productivity tracker since I had my heart rate monitor (since 23 weeks) and I have had 41 decent workouts in 12 weeks. I feel pretty proud of how far I've made it, and how much I can kick ass at Jillian 9 months + pregnant. It's sad that I think I am better at Shedding and Shredding this year versus last year...how is that even possible? The pregnant body is an amazing thing.
This past week was pretty special, my daddy came to visit from NY! After a bit of a tussle getting down here (he has no phone, and made a wrong exit in Breezewood and had no mechanism to get in touch *insert annoyance here*) it was great to see him and show off this bump -- I'm his only daughter and it meant something to me to have him see me all huge and preggo before he meets his first grandbaby!
We had the family come over for some barbeque and to see the baby's room as it nears final completion (JUST NEED THE CURTAINS UP BUT THEY ARE BEING WORKED ON!!!!) :D
Meredith and I made sure to take a quick picture , as this is likely the last time we will be pregnant at the same time! Cheers for 2012, it is going to be blessed with beautiful babies!
Grandma Niter filled out some sweetness in the babybook whilst chilling surrounded by her craftiness! Stay tuned for our Etsy shop in a few months. (Seriously)
We also knocked some of the last items remaining on our baby-to-do list. I got my replacement kit for my breast pump in the mail (YAY), made some plans for baby's take home outfit (it's adorable) and met with the pediatrician!
Since I haven't done an SIWWP in a bit -- I thought I would wear my Wrangler self-made lesbian biker vest to the doctor's office. Big hit.
The pediatrician is about 2 miles away from us, and was suggested to us by a friend (Thanks, Carrie!) I really liked the doctor we met, who is also a lactation consultant, which will help tremendously should we need assistance in the boobs department.
On Monday I went back to the Doctor -- this is my last appointment while still working. I haven't bitched much about it here (surprisingly enough, with as much as I like to complain sometimes) but my visits have been a real pain in the ass as of late. Emphasis on late. Because I have seen the same Dr., who has late appointments on Mondays, and because my job only allows me to really take late appointments without being penalized with some arbitrary "make up time" I have been stuck having to take the latest appointments possible. This appointment was at 3:15 and I didn't get seen til 5:00PM. For a 3:15 appointment I have to leave at 2:30 at the very latest to get there on time.
I understand that there are emergencies, and Mondays are busy, and whatnot...but having to wait upwards of 2 hours to be seen for LITERALLY 10 minutes tops is quite frustrating and mentally draining. This week was jam-packed with bull shittery and prep work for client transitions, conference calls, on top of 7 events and trainings....I AIN'T GOT TIME TO WASTE, DOC! Anyway, vent over.
pictured : shit to do
I didn't get to have a sincere heart to heart in that 10 minutes I was seen, so I don't really have a solid game plan as to where we are with this ginormo baby, and what my odds really are.
The only real things known this week are:
1. He's still ginormous
2. At 36 weeks, 4 days I measured 38 weeks, still
3. My pelvis is "adequate" aka not too narrow to allow for a "normal" childbirth...
4. My current "normal" isn't ideal with tailbone, sunnyside, etc
5. I am still 1 cm dilated and 50% effaced, so no change there
6. Another growth ultrasound is scheduled for 38 weeks, and more discussions will be made
I broached some csection talk (in minutes 8:30 of 10 spent with the Doc) and determined the following:
1. I can go into labor naturally and they won't suggest induction unless something crazy develops at the next ultrasound
2. If I get to the hospital and baby is in distress/gets stuck/tailbone feels too wonky I can elect for a csection at any time
3. The surgery should be quick and I should supposedly be able to nurse and hold him immediately afterward (this I am not so convinced about)
So, there we have it kids! I'm just in a holding pattern and living life like we're golden.
I managed to get a super sweet action video of Baby Boy moving and grooving in my belly. (Full disclosure, we had been listening to Weezy)
Since it is connected to Facebook, you'd need to be logged in but can see him in all his glory here:
Baby Lovelace dance party
A number of people have been making guesses on when he will grace us with his ginormous presence so we made "JFF/justforfun" shits & gigs baby pool which can be found here:
How big is Baby Boy Lovelace?
So go get your guessing on, dear readers! I am getting a kick out your suggestions...especially the names! First one to say 10 lbs. gets a side-eye though.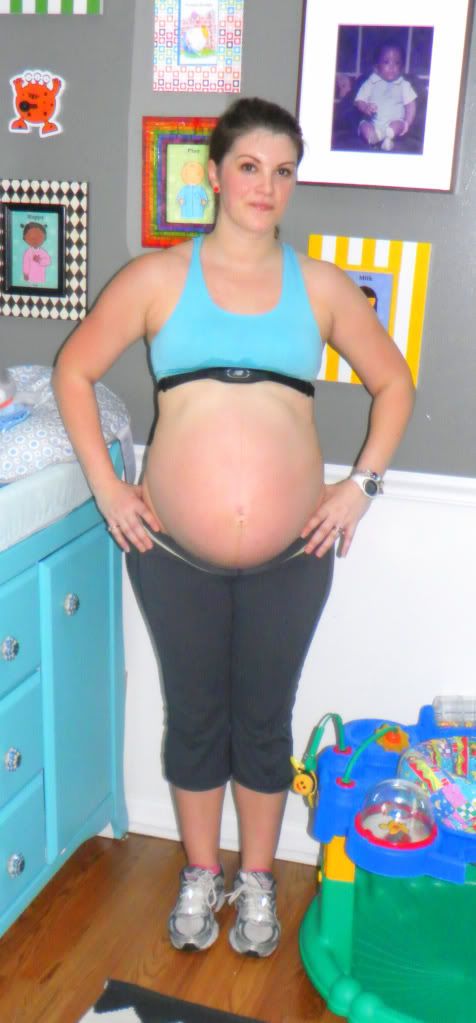 serious face is very serious
How far along? 37 Weeks, hubba hubba!
Total weight gain: A solid and sturdy (Good German Stock) 33.3 lbs
Maternity clothes? NO. I declared this week #teamdress #nopants week. The emancipation/epantsimation week where we veto all things covering our legs. WHY? Just because. I don't think it will become a trending topic on the twitter anytime soon but I did buy 4 dresses from my favorite consignment store and have rocked them all week. Sorry for dumb faces. I look especially miserable in the morning.
Sweet baby blue sundress for my work shower, where baby got spoiled!
this darling red number, again with favorite stripes, for a sweet $6
let's try to be mellow-yellow...and my favorite blue wedges
and more sweet stripes and 90's "Limited" dresses
Stretch marks? Still have some guys chilling down here...light and purpley. Still hoping they don't decide to multiply/bring a gang of their red friends
Sleep: Is random. Some nights I get about 3 hours it seems..others I can pass out at 9PM, and wake up at 5 and then get another 45 minutes or so before waking up for work. My legs still get heavy/feel like bricks/cramp from being in one position for too long, but I have been getting up frequently to pee so that helps the situation. Excited for next week, being off and not having to wake up a certain time!
Best moment this week: spending time with my lovely family, and counting down the final days of work....especially thankful for a supportive team and some awesome friends I have made at the World of Webinars who made this transition more comfortable and put up with my hormones for these past 90 bajillion months.
Miss Anything? My pelvic bones not hurting...and my lower back not being as tender...and all these little hurts and pangs of pressure that have suddenly made themselves known. But these are all good signs so I'm happy!

Movement: Per the above sweet video, kid is still kickin up a storm. This is another reason I don't feel like he is "dropped" enough or ready to make his appearance soon! My belly is so large though that my legs splay out when sitting down, and it's like the kid is fully on my lap. It's weird to feel him kick as high as my boobs yet feel his arms (or something) moving down below patting my lap.
Food cravings: Smoothies, fruit, pineapple, strawberries. MMMMMM.
Anything making you queasy or sick: Some nights, especially on days I have worked out I have noticed I feel a bit period-crampy....nothing too crucial but some pings and pangs that seem semi familiar in that variety.
Gender: Boy
Labor Signs: Alas, none that I can tell. Blood pressure and protein levels are all still fabulous as well.
Symptoms: Overall pretty fantastic....hips/lowerback soreness here and there. Kendra says I sound like an old man when I get up...it does take me longer to get up but I think that's because I am having some pelvic pain again...She also made fun of my underwear the other day (because they showed through my dress). I have officially given up on caring about pantylines...is that a symptom? Seriously, the size of these huge granny panties..... I can't wait to pack those suckers away. Hanes, not so much my way. Or Hanes, get out of my way.

Belly Button in or out? flat and weird, flat and weird. My boobs are also still flat, in case anyone is keeping track at home.
Wedding rings on or off? On! Every week I keep waiting to swell. Still doing pretty okay in that frnt.
Happy or Moody most of the time: Very happy! This is the last week of work and I'm full term, so what is there NOT to be happy about??
Looking forward to: Rest and Relaxationville....where I will continue team #nopants.....because I will likely be laid up in the house in my granny panties, straight lounging watching Dr. Phil and balancing red raspberry leaf tea on this bump for the duration...until Mr. Ginormo child makes his debut!
Cheers to (potentially) 3 more weeks of golden pregnancy bliss. Keep sending us those good vibes!